Bouquets of sweets | Buy a gift in Kiev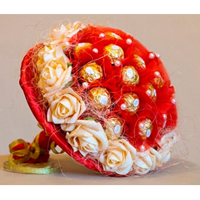 In this article we will tell you in more detail about the features and advantages of such an original gift as a bouquet of chocolates.
We borrowed the tradition of presenting such a gift from the west. It is there already for a long period of time that it's customary to give relatives not ordinary flower bouquets, but creative and unique bouquets, the main component of which are real candies.
Bouquets of sweets - flower delivery
One of the most important advantages of such a bouquet is that you can make it absolutely unique by choosing sweets to your taste and adding a gift with satin ribbons, beads, toys, fresh flowers, a wicker basket or other creative stand, candles and other trifles. Congratulate your soul mate in Kiev with the help of the flower delivery service in Kiev.
It is worth noting that there are people who do not like bouquets of fresh flowers. And there are reasons for this: some believe that they are short-lived, and therefore not practical, others understand that such a bouquet requires special care and do not want to spend time on it, and there are some who simply feel sorry for the cut off flowers.
Therefore, here it is worth highlighting one more advantage of a bouquet of flowers - its versatility: you will enjoy the beauty of the composition of the bouquet even after eating sweets "as intended", tk. it remains the same as in the very beginning.
Now it's worth talking about who can give such a bouquet. First of all, of course, are children. After all, who else is so sincerely delighted with the sweet gift, and so beautifully decorated? Agree that young creatures do not always appreciate the bouquet of fresh flowers, but a bouquet of the most favorite sweets will do just fine. The second group should be allocated to men. If someone is embarrassed or considers an inappropriate gift a bouquet of fresh flowers to representatives of the stronger sex, then a bouquet of chocolates collected in the form of a whole composition and supplemented with a bottle of alcohol will be a harmonious gift for any man! Also, a beautiful bouquet of chocolates can be a pleasant gift for a birthday.
Bouquets of sweets will be excellent, and most importantly an original gift at any event. And believe me. What exactly will your gift be remembered not only by the originator of the celebration, but also by the other guests present, since such beauty will not be difficult to replace among the many bouquets of fresh flowers.
Therefore, we advise you to choose a bouquet of chocolates for a gift, if your goal is not only to present a gift, because it is necessary, and if you want to surprise the recipient, make something unusual and memorable, as well as durable and beautiful.
And remember, everything is limited only by your imagination!
10/02/2015