What are they giving to the wedding?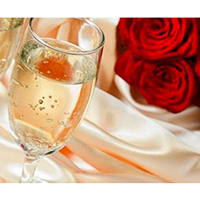 Everyone is once invited to the wedding as a guest. That's when the question is becoming acute - and what are they now given to the wedding? If you yourself were already newlyweds, especially recently, then this will help you a little in solving the issue. Although what was useful to you may not be interesting to others. Therefore, you still have to break your head. In order to start from something, contact the delivery of flowers in Kiev and order a beautiful bouquet for future newlyweds at the right time.
What should you think?
It is important that the gift is thought out, and not "God is upon you, which is not good for me". And you do not have to tweak it for yourself and your needs. Analyze the situation in which a new family is formed. Where they will live - in their own housing, with their parents or in a detached apartment. Maybe they've been living together for some time? They need some kind of household items or they have "all in chocolate"? Do they have a general desire to create maximum household amenities or are they ascetic minimalists, do they have any hobbies? If you do not know the answers to these questions - refer to the future newlyweds or their parents and friends. Seriously facilitates the task of choosing gifts for guests prepared in advance by the bridegroom and the bride a list of necessary. And in order not to fall into the broom when choosing something specific, stick to the principle of the golden mean, focus on quality, price and enduring classics.
Is it good or nice?
We often choose between want and want. It is not only experienced by one who bathe in money and any his desire is executed on a time or two. Therefore, I want to give a gift between me and I will need a MI, select the second one. An average family, which begins to arrange its own everyday life, in any case, needs household items. No matter what it is, bed linen, a bath or kitchen towel, a dining or tea set, a set of cutlery or a tablecloth, a blanket with pillows or a soft warm blanket will never be superfluous. And they will definitely use them, because no one sleeps on naked mattresses and does not eat from the table just by hands, right? It is important that these objects are not everyday-faceless. After all, this is a special day for a young couple.
By the way, it's absolutely unnecessary iron, a good travel bag or suitcase and a camera - sooner or later newly-weds spouses will want to smooth out something, go on a journey and capture interesting moments of life. And to eat in something it is necessary to cook, therefore do not throw away the variant of a pan-frying pan. Even if the young couple are now living with their parents. In the evening, creating a mood, I want to drink a glass of wine. Here and a set of glasses will be useful.
It is still possible to make a large-scale gift "lump"
Just remember that any gift should not be "cheap"
"I can not choose" or "everything is already there"
In those cases when you still lose your choice or if you have everything you need for life, give them an emotional gift - air ballooning or diving (in the summer) or swimming with dolphins (in winter), sharing a spa salon or a trip for the city on weekends. Or order the performance of the artists at the wedding party.
There is still a wonderful option - a gift certificate. He will be very helpful, especially since today a large number of shops in different directions provides such a service.
Money is the best gift
It is possible. On the one hand, money is always needed, but on the other hand, most couples disappear very quickly. And they do not leave memory. But if you stopped at the money, think about how interesting it is to pack and present it so that it will be remembered.
22/02/2017