What to give to your girlfriend on March 8?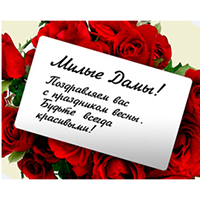 March 8. What to give a girl
The gift to the girl on March 8 is an important attribute of the beginning of spring. These days all men spend time in search of original gifts on March 8 for their loved ones. In this article, we will look at examples of gifts for women on March 8 and help men who are currently in confused feelings.
Women begin to think about the presents on March 8 immediately after Defender of the Fatherland Day. Choosing gifts for men, they dream of a perfect reciprocal greeting from your side. Therefore, you should not disappoint your soul mate, friend, daughter or mother with a present for the World Women's Day. Indeed, in fact, to please a girl with a gift for March 8 is much easier than you think.
Dear gift to a woman on March 8
Many girls really deserve an expensive present on March 8th. If you decide that your other half too, then confidently go to the jewelry store. All girls like jewelry, especially if they are made of precious alloys. On this beautiful gift for the girl on March 8 can be a gold or silver decoration. These can be bracelets, pendants, pendants or earrings. Rings on March 8 is better not to give, otherwise your girl will immediately try on a wedding dress :)
There are also such girls who are neutral for gifts in the form of ornaments for March, 8th. Then she is probably a fan of technical novelties. A good gift for March 8 for such a person can be a heaped laptop, tablet or a brand new iphone.
What to give to a girl on March 8 in Kiev?
If you or your girlfriend live in Kiev, then you have a unique opportunity to surprise your soul mate on March 8. Imagine only the girl's emotions, when you give her a huge bouquet of 101 roses. Girls are very fond of when they are given flowers, and if there are many, then this is a multiple pleasure. With the help of the flower delivery service Buket Land you can order not only the presented bouquets in our catalog, but also make your wishes for the design or drawing up of the bouquet. Some men may think that 101 roses are too many. Then order a smaller bouquet, for example, from 51 roses and please your girl on March 8 with a fresh, fragrant and beautiful bouquet.
Gift for March 8, the girlfriend of a romantic nature
An interesting gift for the girl on March 8 will be the one that symbolizes your feelings for her. In order to show your love and care, you can promise your beloved to pamper her delicious breakfasts every morning for a week. To this process, you can add a gift in the form of a table for breakfast in bed.
To create a pleasant evening atmosphere, present your favorite on March 8 a set of designer candles that will please you with its aroma and romantic atmosphere.
Also, girls prefer to receive gifts on the 8th of March in the form of hearts. Glad the girl with any thing with hearts or an object in the form of a heart.
If your girlfriend likes to spend a long time in the bathroom, give her on March 8 useful sea salts or a set of rose petals. And if she is a fan of singing in the bathroom, then you can not do without a shower radio!
The right gift to the girl, his wife on March 8
Girls really appreciate their appearance and treat it with extreme caution. To help the girl save her face in a superb form, present to her as a gift cosmetic products of all kinds, creams for skin care or a device for skin care. The cosmetics that your girl enjoys will be a valuable gift on March 8, because she often experiences a deficit. It is worth noting that on March 8, you can also present a certificate for your favorite spa procedures for your second half.
A small nice gift for a girl on March 8th
As we know, all the girls are sweeties. A small box of chocolates or her favorite chocolate will be a nice gift for March 8th. The girl on this day except you will be given a lot of sweet, but do not worry. Chocolate is not flowers, it uses it so quickly that it will not be able to "wither" :)
We must remember that girls love with their ears. A beautiful poem that you will pick up to a gift will turn your small modest present into a huge wave of positive.
.
25/12/2014