Flower-sweet boxes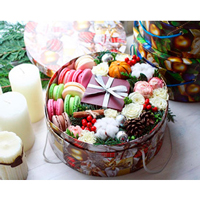 We often ask ourselves questions: "How can you surprise friends, relatives, relatives and loved ones by simply going to visit?", "What to give for a birthday, March 8?" Or "How to please your soul mate?". The girls have a few weaknesses, and no matter how trite it may sound, two of them are flowers and sweet. Especially when it comes to macaroons! But first we will remind you what it is.
Macaroons or macarons are French sweets. In occasion of what exactly they are themselves - opinions diverge. Some people think that it's an almond cookie, others say it's a cake. But the fact remains, the macaroons are insanely delicious, light and tender! They are made from almond flour, sugar, whipped proteins and ganache (which ultimately secures the two halves, forming a "le crotage" - a characteristic skirt for macaroons in a circle). If the macaroons are cooked correctly, they do not crumble, have an amazing delicate taste of almonds and melt in the mouth!
Now it has become very popular to combine macaroons and flowers and beautifully put it all in boxes.
"How do the flowers do not fade there?" - you ask. Flowers are on a special floral sponge, which is moistened with water. Flowers can be in this box long enough. The main thing is not to forget to add water (as a rule, every two days). If you want such flowers to please you as long as possible, sprinkle them in the morning and evening, so that they retain their freshness.
It is also important to note that the box does not leak, so you do not have to worry.
Какие букеты можно составить?
Variety! Very often they add fluffy cotton, berries and even dried mandarins to the composition. In addition, flowers can also be in floral arrangements. The main function of such accessories is to complement the composition, they serve as a decorative detail. After all, very often the flower arrangement seems incomplete or there is a feeling that something is missing. Then the florists come and help such irreplaceable trifles. It can be ribbons, bows, bells, beads, crystals and the like. Such accessories bring bright accents to the composition. Thus, it looks quite complete and much more beautiful.
But of course everything should match a certain color scheme and be appropriate. And of course, you must always remember that everything is good in moderation.
The location of sweets and flowers can also be very different. It all depends on the size and shape of the box and your wishes.
Also instead of macaroons (especially on the eve of the New Year) you can use all your favorite gingerbread. All your wishes about what exactly the cookie should be, what form, color and with the presence of the inscription should be reported in advance.
How to choose the color scheme of the composition?
If it's hard for you to choose a color composition, knowing the color value in the floristry will help you make a choice.
Red is a symbol of love, passion. White - purity, innocence. Pale pink symbolizes tenderness, and dark pink - gratitude. Do not be afraid of yellow! He is a symbol of joy, wealth, friendship. But dull yellow means treachery and envy.
Orange color symbolizes pride, lilac - obedience, and purple - friendship.
But it is also important to know what this or that flower means.
For example, cornflower means grace and elegance, carnation - platonic love, rose - beauty, passion. Peony is a symbol of glory and wealth, tulip - mutual understanding, orchid - beauty. Chrysanthemum symbolizes nobility, gerbera is a mystery, but lotus is happiness and a long life.
Choose the right compositions and please your halves as often as possible!
30/12/2015