All the subtleties of conducting a flower business
Flower business is beautiful!
For many, it may be a surprise that today flower business ranks fifth among all existing businesses in the world. If you reflect, then what's so surprising about it? Firstly, the flowers have always been and will be relevant at any time and in any cases. Secondly, floral business is a kind of art - it's nice to deal with. Agree that to give people a smile and joy gives pleasure to ourselves, and what can we say about sparkling happy eyes that you see before yourself, giving someone a bouquet of living beautiful flowers.
Do not miss the fact that the flower business is very profitable. Yes, it is very complicated, laborious and at times very risky, but if you take it seriously, you can achieve good results even at small scales. In addition to the emotionally positive side of the flower business, you also get aesthetic pleasure on your own. You just imagine - so often see around yourself a beautiful and fragrant flowers, a variety of all kinds of shades and varieties. Such a small paradise for connoisseurs of beauty in our world.
Service in the flower busines
Naturally, each owner will strive to achieve a level of service and service, in which customers will return to the next purchase for it. An important aspect is the selection of personnel who will work directly with your customers. Consultants, couriers and sellers in stores should be at least friendly with people, and at the very least have at least elementary information about issues related to flowers. Many buyers, choosing a bouquet or houseplant, are not always notified about the conditions of proper care of the plant. In these moments, your staff will be able to help him, if, of course, he is competent in this matter.
It is very serious to approach the issue of choosing a florist for your business. Flowers - the goods are quickly corrupted and not always easily transported. These gentle creatures need the professional approach of a person who knows his business. A good specialist is expensive, but he will also do his job qualitatively. Therefore, it is better to spend a little more, but at the same time to remain confident in your product.
All the subtleties of conducting a flower business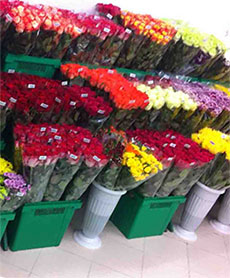 In the flower business, one of the main rules is to withstand competition. Many people want to start doing it, but not everyone understands all the nuances and subtleties of this case. In addition to the cut flowers, most flower shops offer their customers a choice of houseplants in pots, which have begun to enjoy unprecedented popularity in recent years.
After registration of the legal status, you should take care of your main product - flowers. You should carefully think over all the nuances concerning the storage, transportation and even disposal of spoiled plants. You should think over the tactics of trade and price policy, marketing company and much more. Do not forget that any business is risky, there is either profit or loss. We advise you to look at the flower business more optimistically. Even if you do not have the opportunity to start your own business on your own, you can always find out about affiliate programs of online stores or franchise terms. There will be a desire to work - there will be money!
Practice shows that a large number of young flower businessmen managed to recoup their business after a year and a half of work! And it does not matter in what form the business is organized. What can I say - luck always decides for us! But remember that she always keeps up with determined and brave people. Success and realization of everything conceived!
10/09/2016