Flower etiquette | The Right Manners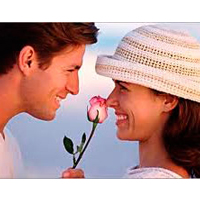 The process of giving flowers is not as simple and easy as it might seem at first glance. There is a certain flower etiquette, which should be adhered to. Especially if you want to not just present a bouquet as a gift, but to convey with the help of flowers what words can not always say.
There are two basic rules of flower etiquette. The first of them says that flowers should be selected in accordance with the gender, age and condition of the person who will receive a bouquet. The second rule, no less obvious, says that it is important to consider the reason, following which you are going to give flowers. In addition, remember that the originator of the celebration will experience great joy and gratitude if you give him his favorite flowers, so do not neglect the tastes and preferences of the gifted person.
Young children, regardless of their sex, are given small bouquets, composed of delicate and small colors of different colors. Such a composition will perfectly blend in with the basic gift in the form of a toy or a box of sweets. To date, bouquets of the same soft toys and sweets have become popular, which will even more surprise and please your baby.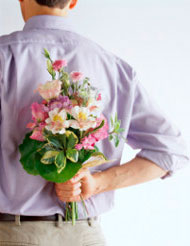 It is customary for adults to give flowers on a long stem. Young girls - "noble flowers" of various colors: from rich red to gently pink or white. In such bouquets may be present gerberas, roses, orchids, lilies, eustoma and many others. But here we should take into account the fact that, for example, orchids will suit a more mature woman with sensual beauty, while bright and sunny gerberas are for charming and young creatures.
To date, it is considered a bad form to give bouquets of lilies or chrysanthemums of white color. There is an opinion that it is in this color that these flowers are symbols of mourning and sadness. However, it is often possible to meet just the white callas or lilies in conjunction with the delicate color roses in the wedding bouquet.
When choosing flowers for a sick person, one should also adhere to certain rules of floral etiquette. So, it is necessary to avoid the sharp and sweet aromas emanating from the given bouquet. Do not buy too large bouquets in size or too expensive. It is best to choose a bouquet that will be collected from the patient's favorite flowers.
Important is the appearance of the bouquet itself, i. E. not only the freshness and beautiful view of the flowers from which it is collected, but also the correct choice of packaging. Now the tradition has become traditional to present flowers in dense wrapping paper of brown color or stylized under the newspaper. More and more often they try to avoid cellophane and variegated packages that have survived their term with awkward twisted tapes. Where it will be more attractive to look a bouquet without a package, the handle of which will be tightly wrapped in a satin ribbon in the tone of flowers.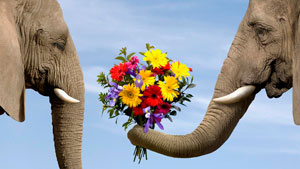 When you hand the bouquet, it should be kept flowers up and preferably in the left hand. So you release the right hand for greeting. Delivery of flowers is supported by pleasant words and compliments. The bouquet is handed to the hostess of the house, if you just went to visit, or - to the originator of the celebration. If a young man visits his beloved's house for the first time, he should show a sign of attention in the form of a bouquet to the hostess of the house and her daughter. Such bouquets are by no means obliged to be identical, but at the same time should be equivalent to each other.
To give flowers is always more pleasant than to receive them as a gift. After all, at such a moment you can see real sincere emotions, joy on the face of the gifted and his shining eyes. The received bouquet put in water and put on the most appreciable place that the appearance he pleased all associates and at every opportunity gave pleasant aroma and memoirs.
12/07/2015