Birthday: what is being given for this holiday?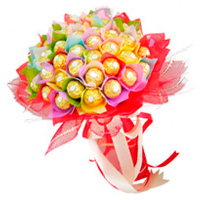 Birthday is a special holiday, which every person wants to celebrate in the best way. Of course, an inalienable attribute of any holiday, especially if you are a girl, have always been and will be flowers. But still there are a lot of other joys that will help you cheer up on this beautiful day.
1. Cakes. The tradition of making cakes for the feast was borrowed from the Greeks, who presented these sweet products to Artemis - the moon goddess, on the full moon day. The Germans, in turn, founded a tradition to give a cake for their birthday. But in truth, no cake will replace the enticing aroma of freshly cut flowers. Nowadays it is very easy to buy flowers in Kiev. For you, the doors of any flower shop are open, or the delivery of flowers across Kiev will fulfill all your desires in the field of floral arrangements.
2. Candles. Well, what kind of cake without candles? Continuing the ancient Greek tradition, we can add that it was the Greeks first began to insert candles into the cake, introducing it as a glowing moon. The Germans preferred to insert candles into pies, not cakes. At the same time, they often used one big candle, placing it in the center and representing the "Light of Life". If someone managed to blow out this huge candle, it was believed that his wishes will necessarily come true and luck will soon find it.
3. Greeting cards. On any holiday even the most primitive greeting card can make a person pleasant. Honestly, she can do it, but if together with her a bouquet of scarlet roses will be presented. To provide such a wonderful gift, use the delivery service of bouquets Kyiv.
4. The stone of fortune. In many countries, traditional congratulations on a birthday have a lucky stone.
5. The performance of the song. As March 8 is impossible without flowers, so is the Birthday without the song "Happy Birthday". This ordinary song was written by two sisters Mildred and Patty Hill in 1893. Originally it was written as "Good morning to you ...", but then it was changed to "Happy Birthday to you ..."
Also, to date, many interesting facts about Birthday are known. For example, in Japan one day they wanted to make a birthday celebration for all residents on the same day - January 1. In some countries, children are called exclusively saints, who were born directly on the same day.
And finally, if you wish to turn this important day into a real fairy tale, celebrate it with fragrant flowers, large bouquets and unsurpassed floral compositions.
10/12/2014