Birthday girlfriend: picking the right bouquet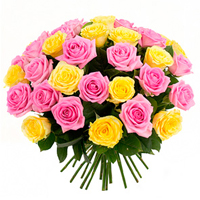 Friendship is one of the brightest feelings experienced by us. So it is important to find a real, understanding and faithful friend. As they say, there can be many acquaintances, but only a few people are friends, or even one. After all, real friendship can really be called a huge gift. Friendship based solely on sincerity, trust, understanding and disinterestedness.
Therefore, the approach for the birth of your girlfriend becomes a terrific opportunity to remind her how the road is and it is important for you! Decorate its holiday and make it beautiful and spectacular will help, of course, correctly selected flowers! And florists of the flower delivery service Buket Land will help you express all wishes and vivid emotions with the help of beautifully composed bouquets of exceptionally fresh flowers!
Correct choice of flowers to the birthday girl
So, the first thing you need to know is the taste of your girlfriend: what flowers she likes and what shades. Just need to pay attention to the fact that the birthday girl can be allergic to certain flowers. This often happens and your inattention will not ultimately please any girlfriend or you.
Do not forget the language of flowers. After all, flowers can express their emotions much brighter than words.
Roses
It so happened that each flower has its own meaning, which is supplemented by certain details depending on the shades.
If you choose a bouquet of roses for a friend, remember that white roses mean your trepidation, affection and respect. In turn, red roses are passion, love, desire. On this, leave a chance for a young man of your girlfriend to present a bouquet of scarlet roses in the form of a gift.
Pink rose means tenderness, and burgundy - beauty and elegance. Yellow rose is a symbol of optimism and cheerfulness.
If you want to give a bouquet of roses, make a composition in which roses of different colors will harmoniously look. For example, giving a friend a bouquet of pink and yellow roses, you express the joy of communication and admiration in the language of flowers.
Tulips
If your girlfriend is a lover of tulips, then you should know that the tulip is, as well as the rose, the symbol of love. There are legends that in the buds of tulips happiness hides. Well, her friend's birthday is a wonderful occasion for her to present! Indifferent to such a gift, she certainly will not remain.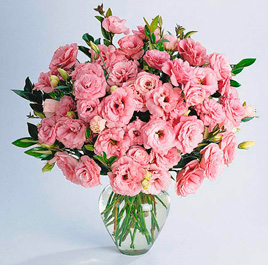 Eustoms
The eustoms are incredibly tender, quivering and surprisingly touching flowers. In the people this flower is sometimes called a Japanese rose. Indeed, eustoms are like roses, but quite a bit! After all, they are so wonderfully elegant and at the same time airy. Eustoma in the language of colors means tenderness, beauty and happiness.
If you want to surprise your girlfriend and present her with such a floral surprise - make up a composition of eusty pastel tones. Such an incredibly beautiful and quivering bouquet will cause joy in the eyes of any girl!
Gerberas
Present three colorful gerberas of different colors and a bright holiday for your girlfriend is provided! In the language of flowers gerbera means friendship, sympathy, a smile.
The greatest plus of these colors is their stamina. If you do not forget to look after them, gerberas will stay for about a month.
Orchids
This charming and fragile flower means magnificence, perfection. And it's not strange at all, just look at the orchid and immediately it becomes clear that this flower is perfection itself.
Orchids should be given to those you really admire. Such a flower is a very good and sincere compliment.
Irises
But giving irises is best for people older than you, your mentors, teachers. They symbolize wisdom, courage, friendship. Also the bouquet of irises in some of the countries means pleasant news.
Do not forget to please your friends, and the flower delivery service Buket Land will make your bouquet an effective decoration of any holiday!
18/04/2016