How to give flowers correctly: What mistakes does every second allow?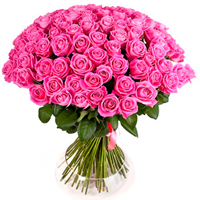 In the world of colors there are some rules that do not need to be met, but you need to know about them.
We have already talked about the language of flowers many times, well, today we will talk about the basic rules of flower etiquette, we will analyze the often admitted mistakes. Such mistakes can not be called fatal or critical, but if you present a gift to a person who understands "flower affairs", then you should learn something.
To begin with, how many colors should be given depending on the occasion. As it turned out, not only from the shades and the type of colors you need to start off when choosing, but also to remember some rules of quantity.
How many colors should I give?
1. If you give your beloved a flower, in this case it means "you are the only one." Thus, you can emphasize the importance and importance of the second half in your life.
2. Three flowers symbolize friendship, devotion and respect.
3. Five - a declaration of love.
4. Seven colors are given to your chosen one, if you have serious intentions towards her.
5. A bouquet of nine colors is given in honor of friendly relations.
6. A bouquet of eleven or thirteen colors is presented as an admiration for the beauty of your chosen one.
7. If you want to ask for forgiveness with the help of a bouquet, give your lover a bouquet of fifteen flowers (roses).
8. Twenty-five flowers (this refers to roses) are presented because of a crazy love.
9. And finally, a bouquet of one hundred roses means an offer to marry you.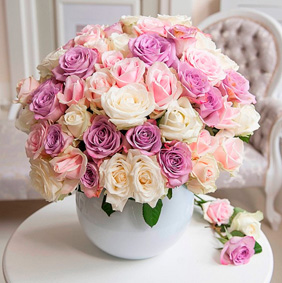 This does not mean that now it is necessary to start from these interpretations of flower etiquette, give flowers as much as you think necessary, because the financial question here plays not the last role. But you need to know about these rules in order to be fully armed in any situation.
Flower Etiquette
How many mistakes we make when we present our bouquet! Forget about the banal and the most elementary rules.
So, young girls with whom you are not in a relationship, according to the flower etiquette, should be given flowers only of pastel and light tones.
But scarlet and burgundy better please your beloved!
Older ladies should give flowers of pink shades. Or else, cheerful tones (orange, yellow). But in any case, do not give burgundy or red, so as not to emphasize their "maturity" and age.
If you present flowers to a man, remember that it can be done only in case of a significant occasion: birthdays, births, promotions. In men's bouquets choose scarlet or burgundy roses on long stalks, carnations, callas, irises, as well as strelitzia
If you want to present flowers to children or young ladies, choose bouquets composed of small and delicate flowers. Very good in the same bouquets fit tremulous anemones.
How correctly to present a bouquet
Well, we sorted out what flowers to pay attention to when choosing a bouquet, indicated how much it is worth giving flowers depending on the occasion, now it's up to the little thing: to present them correctly.
1. Refer to the bouquet, as to something important, valuable and reverent, present it to your chosen one.
2. Also, tell your girlfriend why you chose these colors. She will be pleased to realize that this bouquet was bought not in a hurry and on the principle of "first caught". This will mean that for you - it's not some ordinary thing, but a bouquet chosen with a soul and only sincere emotions.
3. If it is appropriate, share recommendations on how to properly care for such a bouquet, so that the flowers in it stood as long as possible and reminded all this time of you.
And most importantly, you always give flowers only with positive emotions and good mood, then such a gift will be pleasant doubly!
23/04/2016