How to make toys out of flowers
In the modern world, fashion does not stand still and changes almost every day. This trend manifests itself in the flower market, or rather - in gifts from real flowers. More and more popular are toys made of flowers: bears, bunnies, swans, cats, dogs, etc. Simple bouquets of flowers in Kiev are no longer so urgent, especially if they give it to a young girl. Therefore, in order to emphasize the individuality of your gift, to please and certainly to surprise your chosen one, or just a person dear to you, we advise you to study the following article about how it is easy, fast and beautiful to make such a gift of their flowers.
The first thing you need to do is choose a comfortable and stable stand for the future composition. This can be a normal tray, tray or other moisture resistant dish.
Next - come up with the look of your future toy: what colors it will consist of, what color range, size, etc. To do this, you can search for already ready-made works on the Internet, or make your toy of flowers like the plush from an ordinary children's store.
The next stage is the making of a toy of flowers. To do this you will need:
1. Floral sponge (oasis)
2. knife, scissors
3. skewers / floristic wire
4. flowers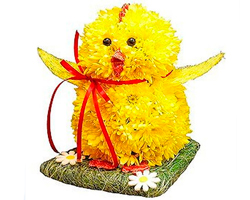 First of all, proceed to cutting out the "body" of the toy: from the floral sponge, cut out the torso, head, limbs, ears, tail. Properly soak them in water, so that the oasis accumulates moisture, and after removing it from the vessel, wait until excess water drains and connect all parts of the body with floristic flower wire. Also, it is worth noting that you can order all necessary materials for toys from flowers with the help of the flower delivery service in Kiev.
TIP! Use simple shapes for carving a toy's body from flowers: rectangles, squares, balls. The less detail you get, the stronger and more reliable the toy will be. Do not forget that the size of your toy from flowers will increase significantly when the base is "overgrown" with flowers.
Next, give vent to your imagination! Choose different shapes and colors of flowers and give your toy of flowers of an individual and living species. Do not be afraid to experiment! For example, a muzzle of a small animal, for example, can be made from unopened buds of flowers, paws and tail of a wire wrapped around a colored oasis, eyes, mouth and ears - from cut cardboard, or using materials from old plush toys.
Flower little animals do not require special care. They only need to be watered every day with water at room temperature until water flows from the pan. You can do this procedure both with the help of a watering can, and taking one flower from the top of the toy and a thin trickle of water into your animal. In some parts of the toy of flowers, for example, ears, tail, you can pour water with a syringe.
With regular and careful watering your flower animal can delight your eyes for at least two weeks! So do not be afraid to try something new, make your own hands with something that will undoubtedly please those who will be intended this toy of flowers, tk. the best gift - made by own hands!
28/12/2014