What flowers to give to men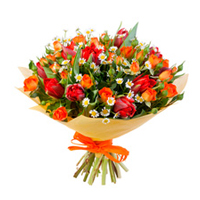 How often do we choose bouquets and flowers for our beloved female representatives, and how rarely do we give such gifts to men. And why? Few people know how to choose the right bouquet for a gift to representatives of the stronger sex of mankind. And it is in this article that we will help you with advice on how to make the right choice of a bouquet of flowers for a man and not make a mistake. Send Flowers to Kiev - we will make a beautiful bouquet for a gift to a man!
When you choose a bouquet to a man, do not forget about some simple rules. Such a bouquet should be assembled from flowers of one kind and, preferably, one color scale. It is these bouquets that are ideal for a holiday or a solemn ceremony. Do not look too bright and colorful.
It is important to consider the idea of ​​a holiday. For example, everyone knows the fact that holidays for any military theme are always accompanied by bouquets of carnations, birthday or anniversary celebrations are usually made with callas or roses. Also of great importance is the status of the man to whom you are going to give a bouquet. Florists advise in some cases, such as raising the career ladder, for example, to give not a bouquet, but a beautifully decorated basket of real flowers. An important role is played by the age of a man: an unusual and even exotic flowers will suit a young man, while for an aged man it is better to choose classic chic roses or tender tulips. Buy tulips in Kiev is always possible in the flower delivery service BuketLand.
When choosing a bouquet of flowers for a man should be guided not only by your personal preferences, but also take into account the attitude to such a gift of the originator of the celebration. After all, many believe that flowers - this is a primordially female gift. But many men still claim that they would be pleased to receive a bouquet of flowers as a gift. In this case, it is worth not forgetting the fact that the flowers are a complement to the gift, and not its replacement. Therefore, it is worth adding a greeting card with wishes if you give a bouquet through courier service, or a box with a nice souvenir, or a bottle of good alcohol.
Traditionally, men's flowers are considered to be roses of bard color and carnations. But, as it was already noticed earlier, the latter became a symbol of military holidays. Therefore, you can safely choose for bouquet and callas, and orchids, and even irises! Florists advise to dwell on the colors of rich and vivid shades, and leave gentle and pastel colors for bouquets for women.
The composition of the bouquet should be kept in an upright position. It symbolizes masculinity and courage.
We hope that this article will help you to surprise our wonderful men more, make pleasant surprises for them and please such gifts.
28/01/2015