What bouquets to choose for the wedding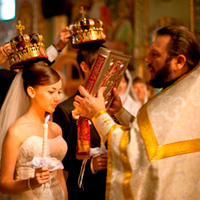 Since the times of ancient Greece and the Roman Empire, people have accepted as generous a gift everything that Mother Earth gave birth. It is no coincidence that everything therefore had a deep meaning - a tree, a bush, a fruit, a grass, a flower. The union of two loving hearts was also considered sacred.
Every plant that was somehow present at the wedding ceremony had a huge and individual significance:
What flowers to choose for the wedding - flower delivery
1. Ivy - loyalty and obedience
2. Rose - love and passion
3. Lily - purity and innocence
4. Lily of the valley - faithfulness, devotion, love and purity
5. Violet - modesty, kindness, friendship and pure thoughts
6. Jasmine and lilac - tenderness and beauty
7. Peony - love of life and optimism
8. Tulips - mutual understanding and strong long-term relationships, loyalty and devotion
We respect and continue these traditions. Past centuries and turbulent events changed attitudes to certain colors. Many new superstitions and traditions have appeared. Some flowers "fell into disgrace". Therefore, the choice of colors for the wedding ceremony should be approached with knowledge of the subtleties.
If you wish to order the flowers listed above, you can help delivery of flowers in Kiev.
Flower compositions and bouquets can be an attribute directly during the wedding, in order to strengthen the festive atmosphere. And, of course, at the end of the sacred rite, the wedding couple is met at the exit from the church with flowers. This can be round bouquets, and baskets with compositions, and small bouquets of rare flowers without excess, which will emphasize the significance of the event.
Of particular importance is the shade of colors and their smell. The traditional color of wedding celebrations has always been considered white, as a symbol of purity and integrity of those marrying. In any case, it is better if your flower gift will be tender, soft, pastel tones and with a delicate aroma. Avoid dark shades of blue and all shades of purple. Also, better give up red and white roses, lilies, chrysanthemums, carnations and any yellow flowers, in order to avoid gossips and omissions. And, of course, it is advisable not to present brightly smelling plants, so as not to cause trouble for young and guests.
Most often, it is at the wedding that they are presented with bouquets created from the colors of light halftones of blue as a wish not only for the passionate passion, but also for trust, mutual understanding, eternal and unshakable fidelity. Refined people can give a small bouquet of exquisite lilies of the valley. These tender flowers will be your wish for young cleanliness, love and devotion. You can also make interesting compositions based on your desires and the art of florists. Use the service delivery of bouquets around Kiev and beautiful flower compositions will surprise you with their beauty.
But, before choosing a flower gift for such an important event, ask in advance what flowers the bride prefers, so that your bouquet becomes a pleasant emotional addition to your wishes.
Of course, we must not forget how to correctly transmit flowers. Firstly, no matter how you carry them, present the bouquet only with buds up! And the rules of etiquette give flowers without packaging. Or at least make sure that the wrapper is transparent and small to emphasize the beauty of the composition and the fineness of your taste.
And most importantly - passing flowers to the hands of young spouses, remember that you show approval and friendly support to their union and give a piece of your soul!
16/08/2014