What bouquet to give to the teacher?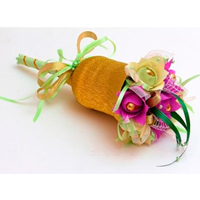 Every year, millions of students and students across the country carry posh flower bouquets to their teachers and teachers. And it is not surprising, because these people are laying in us their hard work and priceless knowledge. They hear many grateful words in their address and it's hard to imagine them without a beautiful bouquet of flowers in their hands. Flowers have become an indispensable attribute and symbol of September 1, the Last Bell, Teacher's Day and many other school holidays.
bouquet to the teacher - flower delivery
When you choose a bouquet of flowers for a gift to the teacher, do not forget that it will stand in the most prominent place, so you should keep the fresh look and pleasant aroma as long as possible. In order to surprise the teacher, to present a truly unique and unique bouquet that will stand out among the rest, use the services of professional florists. They can collect a beautiful bouquet from a wide variety of colors. Flowers delivery to Kiev - only the freshest flowers!
Of course, not all are ready to use the services of professionals or even order bouquets in online stores, when the question is in choosing a bouquet for the teacher. But, nevertheless, there are people who feel sincere gratitude to the teachers for their efforts and acquired knowledge, who do not spare money for a chic bouquet.
It is worth noting that the tradition to give bouquets to teachers is inherent only in our country. Remember that depending on the gender and age of the teacher, it is the florists who can help you choose the right and suitable bouquet.
So, on the last call, it is recommended to choose flowers of yellow, red or green hue. Because the holiday itself is one of the most touching and memorable events for every schoolboy, apart from a prom, flowers should also bear the appropriate charge of something ringing, bright and cheerful.
Young teachers are usually given bouquets, collected from medium-sized flowers of tender shades. Here you will be helped by lilies, bells, roses spray. For teachers of an older age, large flowers of bright and rich colors are perfect: roses, chrysanthemums, asters. You can also buy chrysanthemums in Kiev.
If there is a choice of a bouquet for a first-grader, then it's worth not stopping at exotic, but with simple seasonal colors. These can be small bouquets, collected from orange flowers. Yellow or red hue. For example, delicate asters, chrysanthemums or roses are always an indicator of good taste.
We are sure that for each person teachers and teachers have become people who, not sparing their own strength, have not only absorbed knowledge, but also their life experience, kindness and love. Therefore, they certainly deserve to receive in return sincere gratitude, and you will certainly be helped by flowers!
28/01/2015