Trendy trend: Decorating a cake with fresh flowers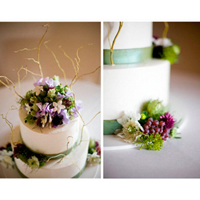 What could be better than sweets? Flowers! And what could be better than flowers? Sweets! But you can combine them. And what will happen?
And it will be a magnificent, incredible beauty cake! Which will become an amazingly gentle and tasty gift. Live flowers are able to transform the most ordinary cake and give it luxury and charm.
Such a "flower" cake can be made at home. But for this you need to know some nuances.
What you need to know about flowers?
First of all, there is a list of colors that are toxic and use them in food - it's forbidden!
This list looks like this:
• Lily Calla
• White Lily
• Hyacinth
• Lily of the Valley
• Jasmine
• Snowdrop
• Tulip
• Hydrangea
• Strelitzia
• Pink carnation
Whatever these flowers were like and how beautiful they did not look on your cake, replace them with others. Take care of your health and the health of your loved ones.
This list will be useful to those who order such "flower" cakes. Quite often, confectioners are not aware of the toxicity of colors and create the design of the cake being guided only by the fact that these flowers are suitable and only so it will be beautiful. The criterion of beauty is very important in such cakes, but you also need to worry about the safety of your customers.
Traditionally, the following colors are chosen for decoration:
• Rose flower
• Orchid
• Camomile
• Petunia
• Tiger lily
• Thyme
• Pansies
• Cornflowers
• Apple tree flowers
• Orange tree flowers
• Oregano
The idea of ​​decorating a cake with flowers is quite simple. Recently, there was a tendency to decorate wedding cakes with the most delicate shades of roses, which will be combined with the bride's bouquet and the groom's buttonhole.
It is also customary to decorate a white cake with scarlet roses. The simplest combination, it would seem, is always amazing and uniquely winning.
In order to decorate the cake with flowers you do not need to be a florist, decorator or confectioner, you just need to know a few rules that will help you turn a cake into a real masterpiece.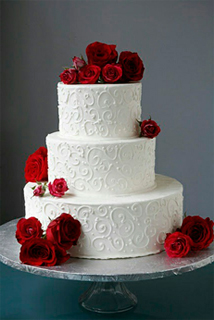 1. Pick only fresh flowers. It is also important to choose only those for the cultivation of which pesticides were not used. Naturally, it would be great if you grow flowers yourself, in the garden. Then the probability that chemical substances will enter the cake is zero.
2. When ordering flowers from a florist, specify that you need them for decorating food and for this, it is important that they are free of pesticides. It is better to order the delivery of flowers, then they will be much fresher than those that are bought in stores.
3. Place flowers on the cake so that they do not come into contact with it. What is the secret? There are special containers that are designed for a single flower. Such a container can be compared to a plastic miniature vase. Containers must be placed on the cake, and then put flowers in them. To keep the freshness of the flower as long as possible, pour a little water. If you only have a flower bud without a stem, use special small bowls. Such bowls will hold the bud in the right position to you.
4. Decorate the cake with flowers need a maximum of two hours before filing. Before that, you should put flowers in a vase of water. If you ordered a cake, ask the pastry cooker to decorate the cake with flowers at the scene of the event, if there is such an opportunity. Thus, the flowers will "live" longer and will be fresh.
5. Before decorating the cake, put a vase of flowers in a cool place. In no case, you can not leave flowers near the batteries or under direct sunlight.
6. After the decoration, put the cake in the fridge so that the flowers do not fade. Keep it in the refrigerator until it is served.
You can also use edible candied flowers: rose, lavender, calendula, chrysanthemum. But remember that edible in them only petals.
25/03/2016