Appointment of large and huge bouquets of flowers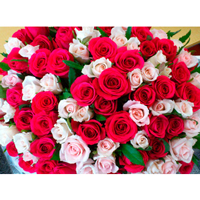 Appointment of large and huge bouquets of flowers
Flowers accompany all the most significant events in our life: Birthday, wedding, anniversary, corporate at work, declaration of love, first date ... Even when men ask for forgiveness or want to atone for their guilt, flowers can not be dispensed with. These gentle and beautiful creatures are so fond of girls, thanks to their some similarity. Judge for yourself, any girl can be compared with a beautiful flower, whether it be a proud and noble rose or a fragile and gentle tulip, an unusual and quaint orchid or mysterious and mysterious iris.
If you take statistics on bouquets, then the most favorite flowers of girls can be called roses and tulips. Bouquets of these flowers can stand out not only because of their beauty, but also impressive sizes. When you give a bouquet, remember that each flower in it has its unique semantic value, as well as the color, and even the number of colors in this bouquet. With their help you can express the feelings that you feel for a person, say about your attitude or respect, while not demanding words.
Huge bouquets of roses
Often, large bouquets are collected from roses. Due to such popularity, the rose is considered to be the queen of flowers. This beautiful flower has many different types and colors, and the fragrance affects anyone who is nearby. Such a wide choice of roses enables the customer to choose the type and color of roses, at the same time, we assure you that each of them will be different in its own way.
Large bouquets require special care when delivering, tk. if one stalk is damaged, its microflora will be disturbed, which will lead to bacterial multiplication in water and the rapid death of the entire bouquet.
Secrets of caring for a large bouquet of flowers
We will reveal to you small secrets which will help to keep a huge bouquet of flowers fresh for a long period of time:
1. Before you put a bouquet in a vase - cut off the ends of the stems slightly diagonally. Thus, the flower will receive more oxygen and nutrients;
2. The water in the vase in which the bouquet will stand should be a little warm;
3. In water it is recommended to add a special agent that prevents the formation of bacteria.
These basic recommendations will help you achieve even more blossoming flower buds, as well as keeping the bouquet fresh for a long time.
A few surprising facts from the history. The largest bouquet that the boyfriend ever gave to his lover consisted of 13 777 flowers! Its cost was 15 million rubles. Here is such a power of love.
Destination of huge bouquets of flowers
If you want to express to your family and friends the power of your love - a huge bouquet of fresh flowers will become a vivid illustration in this difficult task. Such gifts are enthralled, breathtaking and give a sincere smile and happiness to the person to whom it is intended. It is safe to say that only the most generous gentlemen are able to present a huge bouquet of flowers to their ladies heart. Do not forget the same, that in any salon such a bouquet will be made in view of all your individual wishes.
One big plus is a bouquet of 101 flowers and is considered a wholesale purchase, which allows you to buy it at a very favorable price. For convenience, you will be offered courier delivery of such a bouquet.
Do not doubt that it is not difficult to find an excuse for such a truly luxurious gift, the main thing is that there is a desire to bring happiness to the people around you! But we want to note that it will be more pleasant to receive a huge bouquet of fresh flowers, not preparing in advance for any date. It is in this case that you can cause real emotions, brilliance and joy in the eyes and give happiness to your loved one.
13/10/2015