Field bouquets: the charm of exquisite simplicity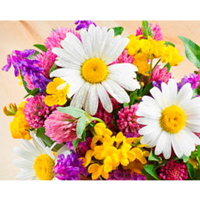 Field flowers today do not enjoy the same popularity as, for example, roses or tulips, but, nevertheless, they have their connoisseurs thanks to their own tenderness and stunning aroma.
Many girls prefer prefabricated bouquets of wildflowers. Such a bouquet, unfortunately, you can give only in the summer or warm autumn. Girls appreciate in him modesty, laconicism and at the same time an extraordinary tenderness, which is associated with freshness and sincerity of feelings. Such simple field bouquets better than others show all the charm of such a beautiful and all-time favorite year as summer. With them you can feel the richness of the colors of summer fields and meadows, because these flowers absorb the purity of the blue sky, the vastness of green fields and forests, the richness and richness of meadow grasses, and, of course, the warmth of the summer sun. Delivery of flowers across Kiev - we deliver even wild flowers!
The main advantage of such bouquets is that for their assembly you can choose absolutely different wild flowers and be sure that they will stand for a very long time, they will give you a wonderful aroma and bring comfort to their simple simplicity.
As it was already noticed, the most popular time of the year for such bouquets is summer, when nature fully rewards us with its fine representatives of small flora: meadow grasses and wildflowers. Despite its simplicity, wild flowers have many shades, there are a variety of shapes and sizes, and absolutely everything has a delicate and fresh, and most importantly - a truly summer scent.
A bouquet gathered from wildflowers symbolizes purity, freedom of feelings, not constrained by traditions, stereotypes and rules. Order a bouquet of wild flowers with the help of delivery service of bouquets across Kiev.
The most common colors used to assemble such summer bouquets are: chamomile, bells, poppies, cornflowers, St. John's wort, kiprei, field carnations, anemone, mother-and-stepmother, forget-me-nots, tavolga, pansies, lavender, violets and many others. A harmonious addition to such a bouquet will be spikes, fragrant herbs, dried straw and satin ribbons. With the right combination of colors, you can create a bright, rich bouquet, or gentle and refined.
In any case, remember that bouquets of wildflowers personify light sincere feelings, are a symbol of purity, kindness and tenderness, which will be an ideal gift for any occasion in the summer.
19/01/2015