Rose is the queen of the flower kingdom. All about roses | BuketLand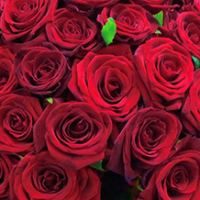 Conquerors of women's hearts are beautiful roses!
Of course, today the most popular flower is the rose. It was the rose that became an ideal gift for a man of any age, and for any occasion. And it's not by chance that the heart starts to beat more often, and a pleasant smile appears on the face when we see these luxurious buds with velvety petals and incredible aroma. As if an invisible magical power attracts our views to bouquets of roses. In nature, there is a huge number of varieties of roses, which differ in shape, size, color and even aroma. Therefore, it is not surprising that each of us can find his favorite rose.
You can not not love chrysanthemums, do not be inspired by the sight of tulips, do not glow with happiness at the sight of a bouquet of hyacinths, but it is simply impossible to remain indifferent to roses!
Fire and ice - red and white roses
From time immemorial, red and scarlet are considered the most beloved roses. They are considered invariable symbols of passionate love and strong feelings. It's no secret that men at a subconscious level choose a bouquet of red roses to inform their girlfriend about the power of their feelings without words, and the girls, in turn, unmistakably guess the man's attitude to himself, at the sight of such a chic bouquet. The most popular variety of roses is the Grand Prix, which has large red buds. It is these roses that are used to make large bouquets of roses, which in the end allows you to conquer the heart of any whimsical lady. Another interesting variety of roses is the Punch variety. These roses do not have such large buds, but are successful because of their fiery reddish color.
The most delicate and exquisite roses are white and cream. It is these roses that are chosen for the most trembling and solemn events in life - the first date, the declaration of love, the offer of the hand and the heart, the wedding ceremony. Here, special attention should be paid to the Avalange variety - roses differ not only in snow-white petals, but also with a relaxed emerald color along the edges of the petals. Bouquets from these roses are the embodiment of femininity and an excellent sense of style. By the way, white roses can be not only a symbol of tender feelings, but also an excellent gift at business meetings. But here it is worth choosing a variety of Wendell - small shrub roses with small white buds will look great in a bouquet for your boss or work colleague.
The most original varieties of roses
Quite recently, multi-colored roses began to appear on the flower market of Ukraine. Almost immediately they were able to win love and recognition among connoisseurs of flora and today they occupy positions of indisputable trend in the market. Such elegant buds, iridescent at the same time with all the colors of the rainbow, were invented by the Dutch florists. Scientists keep their "recipe" for such unusual coloring of roses in strict confidence, that's why colorful roses are not only beautiful, but also insanely rare. Their growing is engaged in a single company that delivers to all corners of the world unique floral masterpieces. Such a gift is dreamed to get not only girls, but real connoisseurs of beauty. In addition, multi-colored roses are extremely popular in interior design.
Another unique rose was a black flower. Do not pay attention to all sorts of rumors and stereotypes about these roses, because in any bouquet they will look very elegant and beautiful. Especially for those who appreciate originality, black roses will be an excellent gift. These flowers deserve beautiful names, for example, roses of the night sky and impenetrable night, grew into mysteries and riddles. Only one thing remains unchanged: they can surprise you, conquer your heart and enchant you. We will tell you a little secret: if you look closely, then all your myths are scattered, because the black roses are actually dark dark bards, which is absolutely incomprehensible with the first unaided look at them. In the nature of black roses simply does not exist, however, like the blue.
24/12/2016