Roses in pots: features of care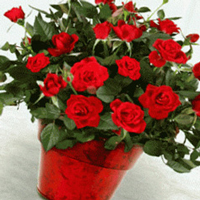 Roses - versatile flowers
Roses will rejoice at everything, absolutely everything. Unless, sometimes preferences can not converge in shades and colors. But this is a completely different matter.
Roses in a bouquet can not rejoice for months, but you want to, do not you? What can be done in this case?
An excellent way out in this case can be roses in pots, which you yourself can take care of and grow at home. But, as with other flowers, a proper approach is necessary here, so it is very important to know the characteristics of this plant. About this and tell more.
It is important to note that the room rose looks almost the same as the garden rose, only a few times reduced in size. Knowing the intricacies of proper care will help to achieve flowering of domestic roses from early spring to the very end of summer.
Temperature and lighting
For such fastidious colors as roses, the optimal temperature is 14-20 degrees. But in the period from October to February for roses you need to pick up a place with a temperature of 8 degrees. This temperature will help the roses restore their strength and gain nutrients that will further develop and bloom.
Roses need to find a place where there will be a lot of light for them. Indoor roses are very light-loving flowers and from the lack of sunlight they will quickly fade or will not bloom. An ideal place is a window sill where roses can get a lot of sunlight.
Thinness of care
Indoor roses like to be watered abundantly, but also follow that there is no stagnation of water! During the flowering period, the rose should be watered as the soil dries. Follow the same way for the water temperature. Home roses are not recommended to be poured with cold water, the ideal option is water at room temperature. In addition, it should be noted that indoor roses are very poorly tolerate dry air. A constant stay in dry air is fraught with certain consequences, for example, the defeat of roses by pests. In this regard, they should be sprayed with water up to two times a day.
Indoor roses love nutritious soil. Therefore, during their active development and flowering, they need to be supplemented once a week with special substances. It is also recommended to periodically loosen the soil in the pot.
In order to extend the flowering period, wilted flowers from the plant should be carefully removed.
Transfer of indoor roses
Rose does not need a permanent transplant. Usually it is done in the fall, as necessary. When transplanting, you should be careful not to injure the roots. Very much room roses do not like this. Therefore, when you transplant a rose into a pot a lot more, be very careful, do not destroy the clod of earth around the roots. Thus, you do not disturb them.
Helpful advice
If you received a room rose as a gift or bought it in a store, it is worth giving the plant a couple of weeks to get used to the new conditions, and only then to transplant. If, however, after the adaptation to the new microclimate continues to bloom, then transplant it in this case is absolutely impossible. It is necessary to wait, when it will turn off and only then transplant it into a more comfortable pot for it.
Pot for room roses, too, must be selected correctly. It should be 3-5 centimeters larger in the diameter of the magazine capacity, in which the rose is bought and 5-7 centimeters higher.
If you transplant a rose in a new ceramic pot, it is worth it before planting the roses soak in warm water for a couple of hours.
It is also important to remember that the elevated part of the indoor rose should be related to the pot volume as one to one.
19/09/2016