Bouquets of fruits | Buy a gift in Kiev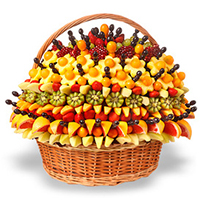 We all try to make the gift as original as possible, so that most of all we remember and sing out your present. There are many creative ideas for such a gift, but the most outstanding among them we consider the bouquets of toys, about which we have already told you, bouquets of fresh fruits and sweets.
It is these bouquets can be an excellent gift for your second half, or for your good friend or friend. For a birthday person, this can be a fruit bouquet, for a more grandiose event, for example, a wedding, a fruit basket is a good fit. If you yourself are the organizer of any holiday, then the creative design of such an event will be fruit compositions at the festive tables.
Fruit bouquets will be an excellent gift for March 8, February 14, for a jubilee or corporate holiday. It's not only beautiful, but still useful and tasty! Such a bouquet will look gorgeous at the head of the table, and delight everyone around with its intoxicating sweet aroma. After all, such bouquets are always made only from fresh, well-preserved fruits.
Now we will tell you in more detail about different interpretations of fruit bouquets. First, it's a fruit basket. As mentioned earlier, such a gift will be appropriate for a wedding, an anniversary or a corporate celebration. Professionals of your choice and taste will be able to collect fruit and vegetable, flower-fruit, or a large fruit basket, which surely will not leave indifferent any of the guests present and the perpetrators of the celebration.
Fruit compositions are an excellent addition to your holiday table. This, firstly, looks very unusual and creative, and, secondly, it will become a tasty and useful dessert for your guests.
And actually, the fruit bouquets themselves. Such a bouquet is made only from fresh fruits. Sometimes it is supplemented with chocolate, which only emphasizes the taste of some fruits. The cost of such a bouquet is usually slightly higher than the total cost of fruit included in it, but in comparison with flower bouquets - about the same prices. You can buy bouquets in Kiev with the help of the flower delivery service in Kiev.
The advantages of such a gift should be mentioned that, even being far from your loved ones and relatives, you can easily arrange delivery through the Internet and pleasantly surprise the people closest to you. Remember that such an original gift is not only beautiful looking, but also useful for everyone, and not just for sweethearts. Surprise your loved ones!
10/02/2015