Drying Flowers: Rules and Tips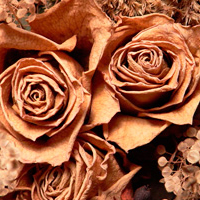 To achieve the best drying results, with cut flowers, you must immediately remove the leaves. After this, hang separately each or all of the flowers in a heap behind the stems with a bud to the floor. Perform this process in a well-ventilated room with a low degree of humidity. To save the color of any flower, you should isolate it from sunlight immediately after the cut. In this case, the drying period should be carried in complete darkness.
To dry only flower buds, just put them on a piece of paper or newspaper in the dark room of the room. In turn, the time necessary to completely dry the flowers depends on all environmental conditions of drying. Namely, from humidity, temperature, air and the type of flowers. This process can take from 24 hours to a week or more. In any case, the petals of dry flowers should look like paper and should no longer be sluggish and wet.
But it is worth noting that even after finishing the drying procedure, flowers are still important to keep away from direct sunlight. This reduces fading.
Also, you can not keep dried flowers in drafts, because even a light air stream is able to break or destroy flowers. If you need professional drying, use the flower delivery service in Kiev and experienced florists will help you to dry out any flowers.
Keep the dried flowers by wrapping them in a newspaper and placing them in a cardboard box. The storage temperature of dried flowers does not matter, but air conditions are extremely important. Dried flowers can be stored in both wet and dry rooms. Garage or a street warehouse - I will be ideal flowers for storing such flowers. But beware of rodents and insects, which can easily harm your creations. Naphthalene balls will help solve this problem very well. And to order beautiful fresh flowers in the city of Kiev, use the delivery of bouquets in Kiev and the Kiev region.
It is also possible to dry the flowers with a microwave oven.
If you wish to dry flowers as soon as possible, then you can use the microwave. Such drying is really effective and reliable way. Although reliability is still inferior to traditional methods. The drying time in the microwave will vary from 3 to 5 minutes. It should also be noted that during this process you should put a bowl of water next to the flower.
drying agent immediately. Leave for a few hours. Times vary depending on this, as well. This can be from eight to twenty-four hours.
13/12/2014