Jewelery for hair from natural flowers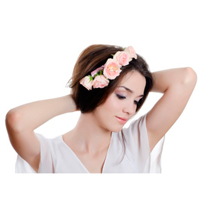 In today's world, photosession with wreath-shaped head wreaths of fresh flowers for girls is becoming more popular. Such original ornaments became the trend of 2014 on the catwalks, fashion shows and conquered the hearts of many girls with their refinement, variety and uniqueness. Such wreaths can also become a wonderful addition to your image on any holiday. With the right handling of such a delicate little thing, you can look irreproachably for a long period of time and charm all present with your appearance.
There are several design options, in the form of which you can decorate your hair with the help of real flowers. To begin with, it can be the most popular, simple and at the same time beautiful bouquet of fresh flowers, pinned on a hairpin or hairpin. If you use individual large flowers, then you can easily turn a regular braid or curls into an elegant, romantic hairstyle. Decorated with fresh flowers, ribbons or rims are great for photo shoots in the open air, walks with friends and in general, as a beautiful hairstyle for every day. Very gently and beautifully looks a scattering of small flowers along the entire length of the hair. To create such an image you will be helped by rose-spray, primrose or gypsophila of gentle and light shades. Such flowers can be ordered using the flower delivery service in Kiev.
It is worth noting that recently such hair decorations are becoming the choice of brides for their wedding. Instead of the classic veil, many girls choose just such rims, wreaths, scattering to make their celebrations truly amazing and fabulous, and their image elegant and gentle. You can buy a wedding bouquet in Kiev in our salon.
Before decorating your head with such compositions, it is worthwhile to carefully see that all the cuttings of flowers are wrapped with a special material that will not let the flowers cling to your hair and scratch the scalp. Some florists advise you to cover your ornament with transparent hair varnish, and also have spare hairpins with which you can easily replace the wollen buds with fresh ones.
Do not forget that the flowers for your decoration should be ordered in advance, so think about its shape, style and content you need a couple of days before the celebration or photo shoot. It is best, of course, to seek the help of professional florists who can reliably and efficiently fix all the flowers and make all your wishes come true.
Decorations for flowers from real flowers will make any girl incredibly tender, romantic and refined. Therefore, experiment, surprise and admire others with its beauty!
28/01/2015