10 New Year Gift Ideas 2020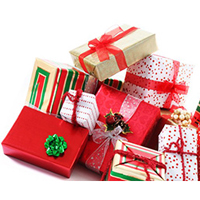 There were the last days before the New Year - many have already taken care of gifts under the Christmas tree. But not all! That's it for those who did not have time to decide on a surprise, we will help today. We offer a non-banal idea of a New Year's gift, which will become a pleasant personification of a miracle, a holiday, fulfillment of desires. Such a present will remain in your memory for a long time!
Emotions are best remembered, so let's start with them.
Emotion as a Gift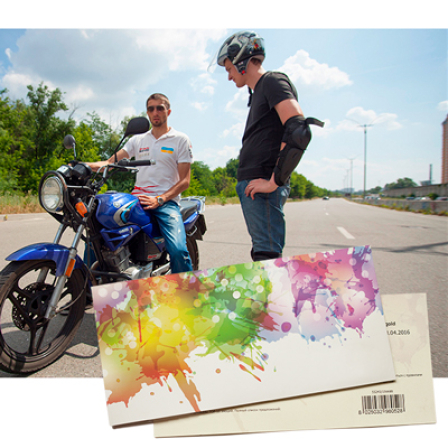 Give your loved ones impressions! Wherever you are and in whatever locality of Ukraine the person to whom you want to make a nice present lives, our courier will deliver it on time! There are many options: extreme, creativity, relaxation. Choose the one that best suits the spirit and preferences of the person you are giving.
Fans of cultural relaxation will be happy with tickets for a concert or performance. Fidgets - to break off for a couple of days on a trip or on an excursion. Creators - give the opportunity to do something with their own hands, for example, caramel.
Those who want romance will love the opportunity to fly in a balloon or ride a horse. If you want to surprise the girl, pack the gift in a large box with a volume bow and flowers and ask Santa Claus and the Snow Maiden to deliver the gift in person.
Sweet Sets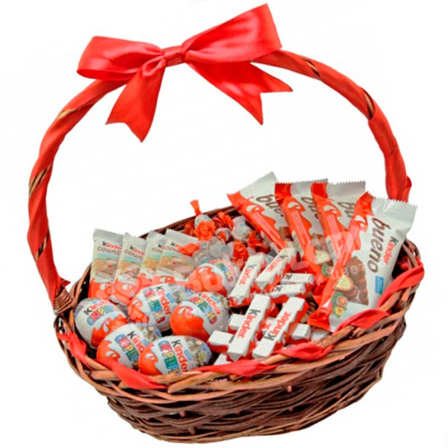 Not a single celebration can do without a variety of goodies, and even more so the New Year - such a present will be delighted with sweet tooth of all ages and gender. Especially if it comes as a pleasant addition to the main gift. BuketLand offers to buy sweets in Kiev - for any holiday we always have marshmallows, chocolate and sweets.
Any sweet treats will be delivered on time - it is not necessary to coincide with a gift for some special event. Contact us when you just want to drink morning coffee with colleagues or tea in the lunch break.
In our assortment you will always find popular favorite options and exclusive copyright ones. Giant chocolates will also be a pleasant surprise - their impressive size will make an impression! When choosing, focus on the tastes of the recipient.
Fruit Sets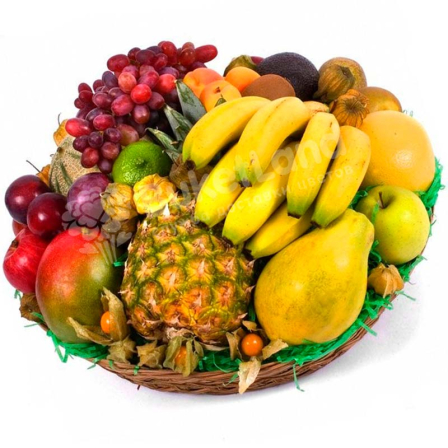 Choosing a gift for any, even the closest person is fraught with difficulties - I want to strangle and please, but it is not known what. We offer a win-win option - a fruit basket.
Everyone loves fruits, the BuketLand store knows about this and offers the opportunity to present a useful, edible and effective gift. The value of the gift will not harm your budget, and the recipient will be happy to decorate the holiday table with such an abundant basket. Complete the present with a gorgeous bouquet - and your attention will be glad even the most practical lady.
At any time of the year, for any special occasion - in our store you can buy a tasty, fragrant and healthy present. On a birthday, anniversary, new year or Christmas - it will always be welcome.
Before giving a fruit basket as a gift, find out if the recipient is allergic to certain types of fruits.
Gift Baskets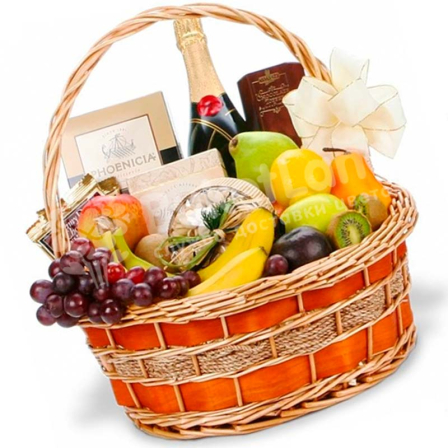 A simple souvenir is unlikely to surprise anyone - most likely, an unenviable fate will await him. It will gather dust on the far shelf. BouquetLand knows a lot about gifts and offers to move away from standard thinking - let's surprise and delight. We will help you with this!
You can buy a gift basket in Kiev with delivery, equipped with the most interesting content. With us you will be spared the need to spend time and nerves in lines - on the eve of the holidays in stores, there is a real crowd, and everything more or less decent disappears instantly from the shelves.
We suggest filling the basket:
delicious milk chocolate;
classic sweets of famous brands;
high-quality dark chocolate.
As a result, your recipient will receive a beautifully decorated gift basket with decent content. Such a souvenir will never gather dust on a shelf - it will certainly find its application.
Stuffed Toys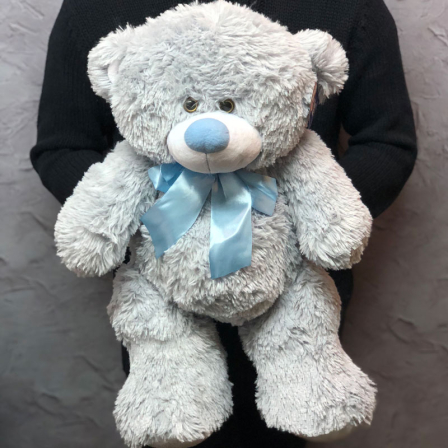 A win-win option when it comes to a gift for a young girl or child. BuketLand offers to buy a chic choice in Kiev - the highest quality plush animals from well-known manufacturers.
You can buy big and small pussies from us - such a gift touches and delights. It can be presented not only at a solemn moment, but also go with him on a romantic date.
Each representative of the fair sex dreams of a cute plush friend, if her living space allows her - please the girl and present her with the largest, comparable to your feelings, bear.
Soft toys in Buketland can be bought for a variety of holidays:
March 8;
The 14th of February;
birthday;
anniversary of dating;
new Year.
Flowers as a New Year's Gift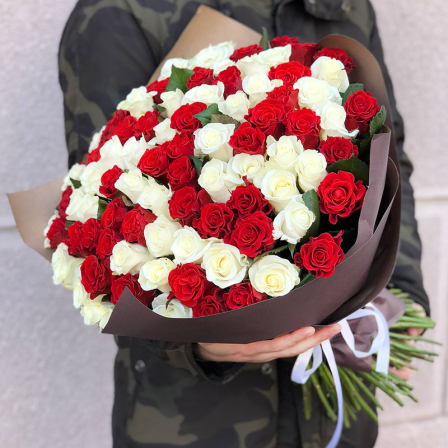 New Year is a bright and beautiful holiday. He is associated with magic, good mood and future achievements. Everyone wants to please relatives and friends and give them their attention and warmth.
Flowers are a universal gift. Order delivery at BuketLand, and no matter how many kilometers you separate, your loved one will know how much you mean. On the appointed day and right on time, the courier will ring the door and deliver a delicate and beautifully designed bouquet directly to the addressee.
Give flowers on New Year's Eve to all the fair sex - a girl, sister, grandmother, mother and her, forget about the mother-in-law. Bright and beautiful plants will make the festive atmosphere more comfortable.
New Year's Flower Arrangements and Christmas Trees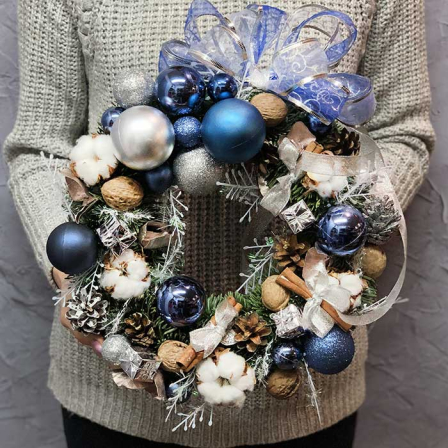 What preparation for the New Year without a thoughtful decor? It is the details that set the tone for the whole atmosphere - candles on the New Year's table, balls on the Christmas tree, New Year's lights.
The company BuketLand offers a special and spectacular composition, assembled from certain elements, it will become an adornment of your home. The base is needles, it is complemented by gilded balls and cones, garlands of lights or beads, candles and berries, both artificial and natural, are often used.
The composition in green, golden, silver interspersed with bright accents looks festive and fresh - it will bring a captivating smell of fresh needles into the house.
The main character of the holiday should also be bright and elegant. To decorate the tree, florists use New Year's beads, ribbons, shiny toys. New Year is a special holiday, everything should sparkle and shimmer!
Decorate your home, set the party table and get ready for a chime.
Surprise with Balloons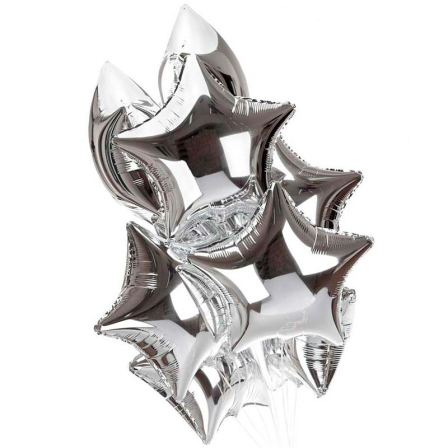 Helium balloons - today not a single holiday can do without them. They give the room a special look and cheer up - do not forget to order them in Buket Land for the decoration of the hall.
Balloons do not clutter up the space - they shine beautifully, delight the eye and provide room for creativity. They can be placed as you wish:
create a composition;
snap in different angles;
let go soaring - they will hang beautifully from the ceiling.
I want something special, for example, a beautiful declaration of love - trust the upscale BuketLand designers.
Making an order is simple - go to the company's website and select the option you are interested in in the catalog. Click on the "order" button and complete the design in the basket.
Box with Flowers and Sweets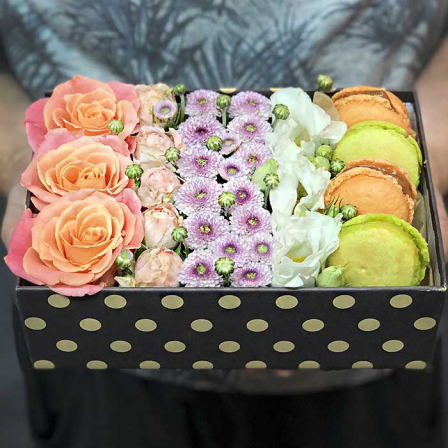 For festive occasions, the florists of our flower salon prepared a special option - to create a romantic setting there is no better solution than a box of flowers and sweets can not be found! Refined, romantic and insanely beautiful, she will delight the lady of your heart.
This festive box was created by our employees for everyone who has kept youth in his heart and soul. It's not a shame to personally present such a surprise, or entrust this mission to a courier - if you are separated by cities and countries, and you really want to please your loved one. Such a present will be greeted by stormy manifestations of feelings - warm hugs and enthusiastic applause. Especially if your girlfriend is impulsive and emotional.
Present a fairy tale to your princess! If in doubt, our managers will help you make the right decision. Tell us about your wishes, and we will offer the best option.
Champagne Heart Flowers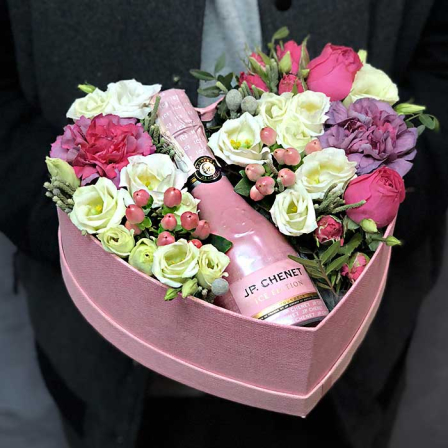 You can express sympathy to a person at any time of the year - give him flowers. A bouquet is a standard choice, it will be a pleasant surprise, but it will not produce any wow effect. We offer to move away from traditions and present an original and unique floral arrangement as a gift.
You can place an order for delivery in Kiev, and our couriers will take your gift wherever you wish - to any settlement in Ukraine. No matter how many kilometers you are separated, the present will be delivered on time to the addressee, and he will receive a pleasant sign of attention in a timely manner.
A bouquet in a hat box looks simply luxurious - such a present will be pleasant to receive for any woman. Filling can be anything - just tell me, and we will add a sweet present to the flowers - French macaroon cakes or your lady's favorite sweets.
We hope our tips will help you make a surprise!
13/12/2019