Winter flowers: what flowers to give in the winter?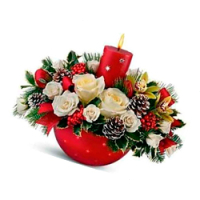 Every year we look forward to a wonderful winter. For us, winter is eternal frosts, short days, snow-covered streets, long nights, and often a sad mood. To make life more fun this time, we come up with many interesting things. But we all know how whimsical sometimes there are girls and in order to raise their spirits you need to please them a little. And, what if not flowers, will help to diversify ordinary winter days, make the day brighter and fill our home with pleasant spring fragrances. If you live in Kiev and want to please your relatives and friends with flowers, then use the flower delivery service in Kiev. Today, it will not be difficult to order delivery of flowers to Ukraine wherever you are. An excellent bouquet of flowers, a good mood and a sea of ​​positive emotions are assured to you!
Flowers, of course, are different: white, red, pink, summer, winter, masculine, jubilee and so on. In this article we will consider what flowers are called winter flowers and what flowers are usually given in the winter.
In our time, the presence of greenhouses for flowers should deny the theory of their seasonality. But it's not so simple. There is no specific color separation by the seasons. But still, the florists impose an opinion on what flowers will be more appropriate in the cold season. They believe that the most suitable for the winter period are roses, lilies and anthuria. In winter, greenhouses also grow many other types of flowers that can diversify your bouquet and give him a warm mood. You can order a magnificent winter bouquet of flowers with the help of bouquets delivery service in Kiev. Our florists will decorate everything in the best winter traditions.
Thinnest decorating of the Winter Bouquet
Decorating a traditional winter bouquet, florists recommend adding sprigs of needles to create a real winter atmosphere. After all, almost everyone associates with winter with the celebration of Christmas and New Year, and the smell of pine needles is an inalienable flavor of these holidays. To complement the coniferous composition, you should add New Year decorative elements. Such can be, as shishechki with small fur-tree toys, and red-white ribbons, tied at the bottom of a bouquet of flowers.
In winter bouquets their winter theme is very much appreciated. When the street is very cold, but there is no snow, you can easily give your family and friends a New Year's mood with a bouquet of white roses. So you can choose a large bouquet of 101 white roses or 151 white roses to surprise the girl. It is worth noting that the more and more luxuriant the roses, the more joy you will bring to man. Do not forget about the existence of blue roses. The original mix of white and blue roses is a real winter bouquet of flowers to your beloved Snow Maiden!
And remember, the flowers are beautiful at any time of the year. Give your girls flowers under any circumstances. For us it's just flowers, and for them - joy in front of your eyes, a smile on your face and your love in your heart!
29/12/2014